Eye Contact Opticians Premium
Opticians and eye center. As well as stocking the latest fashions at the most competitive prices. We also offer free eye tests, free glaucoma tests and have regular special offers. Find us on the Tomb of the Kings Road next to the Pitstop.
Address: 28, Tombs of the Kings Ave, Paphos, Cyprus
Website: Visit Website
Phone: 26221375
Email: vision.care@hotmail.com
Mob: 99494766 Fax:
Finding Cyprus discount card scheme accepted here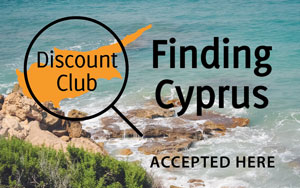 Details of Discounts

Maximum Discount Percentage 30%
Details of Discounts - 30% off Frames and Sunglasses


Welcome to Eye Contact!
Established in the year 2000 we have been providing excellent service and value to all nationalities ever since.
We offer free eye tests and free glaucoma tests and even offer a wide selection of frames for free! – you just pay for the lenses.
Cyprus is well known for excellent value in eye-wear, either for fashion or sight correction, so whether you live in Cyprus or are just here for a short holiday, we can have your new glasses and lenses ready in just one to two days and save you money.
We have a wide range of frames and lenses including designer frames from Rayban, Carrera, Tom Ford, Roberto Cavalli, Michael Kors, Fendi, Calvin Klein, Misoni, Zero, Lacoste and Nike to name just a few.
For everything from sunglasses, sports eye wear, corrective lenses, contact lenses and accessories, find us on the Tomb of the Kings Road close to the Bank of Cyprus.
Zach Nicodemous — 5 ***** Took my fiance for an eye test here as she'd lost her glasses whilst en-route from the United States. The eye test was free and only took 5 minutes. Once identifying what glasses she needed, we were shown a range of potential frames including 3 drawers of frames which were all free! Once selected, the glasses were ready the next day and we only paid for the lenses which were €40 without anti-glare protection and €70 with it! Furthermore, their card machine allowed me to pay in pounds rather than euros, avoiding those annoying foreign transaction fees! Fantastic price and fantastic service!
Download PDF's Below

designer frames
sunglasses
glaucoma test
sunglasses
glaucoma test
frames
eye test
contact lenses
sun glasses
Opticians
sun glasses
spectacles
contact lenses
Opticians
frames
rayban
Opticians
designer frames
Opticians
sunglasses
spectacles
Opticians
frames
eye test
spectacles
rayban
eye test
glaucoma test
frames
Opticians
rayban
eye test
contact lenses
glaucoma test
frames
Address
28, Tombs of the Kings Ave, Paphos, Cyprus
Reviews
Highly recommended
Visited last year upon recommendation and they exceeded expectations, one pair of glasses ended up with 4 and some sunglasses as they were so helpful all 4 of us had a pair. Hope to visit again this year if we get our flights.
---
Write a review