Chloes Chinese Restaurants - Tomb of the King
Chloes Chinese Restaurants - Tomb of the King Premium
We have succeed to offer traditionally cooked and presented dishes, prepared with the freshest ingredients under the latest international and European culinary standards in a perfectly designed original Chinese environment.
Address: 17, Tombs of the Kings Ave, Paphos, Cyprus
Website: Visit Website
Phone: 77771737, 26 941122
Email: chloeschinese2@gmail.com
Mob: 99 923420 Fax:
Finding Cyprus discount card scheme accepted here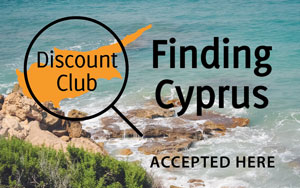 Details of Discounts

Maximum Discount Percentage 15%
Details of Discounts - 15% Discount on Food Only. Not valid during special offers and Buffets



The journey starts again...
Chloe's II at Tombs of the Kings Ave, was inaugurated on May 2005, with the dream to offer to Paphos, unique and authentic Chinese culinary experiences. The man who guided us thru was Dimitris Mosfilis, who traveled there and brought valuable knowledge about the Far East cuisine.
An Aesthetical Study To achieve the absolute sense, the genuine atmosphere, the design team went to the country of the Mandarins and the Boxers and studied in depth the aesthetic approach of the Chinese restaurants, in China.
So today we dare to claim that Chloe's II at the Tombs of the Kings offers a genuine Chinese experience that remains indelibly to the guest.
The Emperor's warriors at the Paphos' Tombs of the Kings Avenue.
The magnificent gardens, beautifully lighted at night, are strongly guarded by the famous Terracotta Warriors of QinShiHuang the first Emperor of China. They have came from their distant country, exclusively to escort you to your journey at the culinary magic of the orient.
A familiar, yet new experience.
We enter the summer season, with a fully revamped menu, new flavors, at the most competitive prices and again under the proprietary of Dimitris who is there every evening to welcome you with his own familiar way and to offer you the unique quality you know, at the most Chinese place at Paphos.
Chloe's Chinese Restaurant is very well furnished and has an outdoor seating area, this restaurant offers authentic Chinese cuisine along with Szechuan, Beijing and Cantonese cuisines, they also offer take aways too. Chloe's Chinese Restaurant is located opposite to the municipal baths and there is a good sea view from the restuarant.
The food here is prepared by chefs from China, and waitresses in red cheongsams serve, giving you a very genuine oriental experience, the duck is very popular in this restaurant, the seating on the balcony outside is very enjoyable with perfect food and a perfect view.
food
Noodles
coffee
Noodles
coffee
Lunch
vegan
dinner
seafood
Asian fusion
seafood
Chinese
dinner
Asian fusion
Lunch
drinks
Asian fusion
food
Asian fusion
Noodles
Chinese
Asian fusion
Lunch
vegan
Chinese
drinks
vegan
coffee
Lunch
Asian fusion
drinks
vegan
dinner
coffee
Lunch
Address
17, Tombs of the Kings Ave, Paphos, Cyprus
Reviews
There are no reviews at this moment..
Write a review