Rock FM Radio Premium
Voted number one English speaking radio station in Pafos and rapidly growing in popularity in Limassol since we expanded east two years ago. Tune in on 98.5FM Pafos, 106.7FM Polis and 89.2FM Limassol or www.rockfmcyprus.com worldwide
Address: 7, Galateias Str Galateia Court, Flat 203, Paphos, Cyprus
Website: Visit Website
Phone: 26948837
Email:
Mob: Fax:
Finding Cyprus discount card scheme accepted here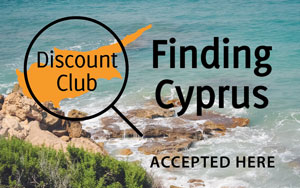 You can collect a free Finding Cyprus Discount Card at this business
Yes, the best radio in town is already 12 years old! Since day one in November 2002 our aim was to give you the best music, everything you need to know for your best living in Paphos and of course fantastic parties!
Check the website for details of all the radio shows that are on, spceial offers from our sponsors, and even listen live on the internet!
12 years ago Rock FM presented Paphos with a unique radio program format. Based on good music for every taste, our shows combine both English and Greek presenters and that did not just happen by accident.
We wanted to offer the English speaking community a choice on the FM dial when no one else was bothering to do so – and we're talking about 2002 – but without turning our backs on the local community or even splitting it in two. On the contrary, we believe that by having good music as a base and mixing it with both English and Greek presenters is a good way to help build bridges between the two major communities. After all, Rock FM is the radio station for everyone!
When Agapios and I, Philippos, started Rock FM, then in our mid twenties,we noth had experience working in commercial radio stations in Cyprus and abroad. The kind of radio stations that followed the rules of 'marketing' so strictly that all shows and presenters sound the same. The playlists (which are picked by the management and not the DJs) only contained the latest releases that made it in the charts. Last but not least, the interaction with the listeners was kept to a minimum and only when it suits the 'corporation'.
That wouldn't be the case for Rock FM! 12 years down the road and still Rock FM's DJs choose their own music and words, creating their shows based on their own character and taste. This builds a true relationship with the listeners, not one that was invented by a team of 'experts'.
Yes, we made our share of mistakes and still do, but don't forget that only people who don't do anything don't make mistakes! But it was all in good will, trying to stay in touch with the listeners and give the best we can back to society. The most important thing is to learn from your mistakes and evolve through them. That is exactly what Rock FM listeners will experience in the very near future!
Rock FM was never just another radio station. We consider ourselves a major part of the local society and the main way people in this society communicate. That is why we are always first in any charity event and why we try to get out of the studios and next to the people of Paphos and Limassol, through Live Links, festivals, parties and more.
Last but not least, Rock FM is a family from any angle you see it. It's a family business created by two good friends with the same ambitions for a creative life and not a faceless corporation trying to make another million. The Rock FM team works like a big family and that is what makes everyday cooperation within Rock FM a real pleasure.
Rock FM is always evolving, always near you. So all you have to do is stay tuned, as the best is yet to come!
Address
7, Galateias Str Galateia Court, Flat 203, Paphos, Cyprus
Reviews
There are no reviews at this moment..
Write a review