G & A General Auto Care Premium
hand Car wash, Polishing, head light polish & restoration, Interior cleaning, windows tinting, carbon fibre, pasti dip, nano wax, head linings, respraying
Address: 131 Makariou III Ave, Emba, Cyprus
Website: Visit Website
Phone: 99950016
Email: info@gageneralautocare.com
Mob: Fax:
Finding Cyprus discount card scheme accepted here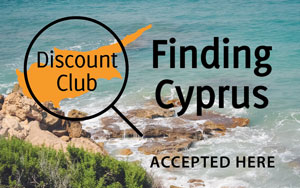 Details of Discounts

Maximum Discount Percentage 10%
Details of Discounts - 10% off car valets



You can collect a free Finding Cyprus Discount Card at this business
G&A General Auto care in Chloraka
After many years experience Gabriel is now pleased to offer a high standard of servie together with his detailed experience in making your car as great as you want it to be.
Why Auto car washes are bad for your car
Automatic car washes are more popular than ever because they save time and hassle.
But you do risk being the culprit of swirl marks that appear on cars, and are very difficult to get rid of once they have shown up. you may fall victim to scratches and scrapes on your rims or on your undercarriage. You will also have to keep in mind spinning brushes and the dangling cloth pieces that do most of the washing. These may be quick, efficient, but if you've got a car that you want safe from swirl-marks and contaminants then this is the wrong road for you. Most people don't realize that these brushes & cloth pieces have touched hundreds if not thousands of other cars, collecting dirt and debris along the way.
Automatic car wash can cause issues , the car it wont stay that shining which suppose to be , cause is damaging clear coat ,first on car hood and roof.
Automatic washes either brush or touch less both use extremely harsh chemicals to keep your car clean which will remove a fresh wax job in short time.
With hand car wash every corner of your car will be clean. ( no missing part).
Why you should wax your car
Some people may see a wax job as an extra for their car, something you do on special occasions to provide a little extra shine. But waxing your car is actually something that should be done on a regular basis. Too often car owners provide regular maintenance on the engine of their vehicle and ignore the exterior altogether, save for a few trips through the gas station car wash. The exterior of your car needs regular care as well. While neglecting the paint job may not lead to mechanical performance issues, it will result in a lower resale value, just like if you never changed your oil or got a tune up. Regular exterior maintenance will keep your car looking new for years after purchase.
And it's not just a cosmetic benefit either, regular waxing helps to protect the paint job and clear coat on your car by preserving oils in the paint that help to prevent oxidation. This is when the oxygen molecules in the air react with, and in this case burn up, the free radicals in the paint. The result is a dulled finish, and waxing can help to prevent this ugly process. Regular waxing also protects the paint from the daily wear and tear our cars get from being exposed to the outside world. Bird droppings, wind, rain, hail, tree sap, smog, ultraviolet rays from the special y sun in Cyprus . There are a host of threats to your car's shiny finish.
As for how often you should wax your car, you'll get a different answer depending on who you ask. Wax manufacturers recommend that you apply a new coat every 90 days or so. Some newer synthetic waxes claim to provide protection for up to one year. It also depends on your preference and available time and money. If you want a showroom look all the time and have the resources, you may want to get a wax job once a month. Cars parked in a closed garage can go longer without a wax as those exposed to the elements.
Aside from the preference factors and recommendations, there are a couple of easy tests you can perform to know whether or not it's time to break out the cotton cloth. The age old water beading test is one. During your wash, take a close look at how the water behaves on the surface. If it beads up nicely, then your last wax job is still hanging in there. If the water doesn't bead at all and forms large "sheets" on the surface, it's time for a wax. Another quick test is performed after your car is washed and dried thoroughly. Fold a 100 percent cotton terry cloth towel until it's hand-sized and thick. Apply firm pressure to the car's surface and twist the cloth back and forth in a clockwise and counter clockwise direction. If you hear a squealing noise, then you're due for a wax job.
what we do:
Hand car wash
Hard & soft compound wax & nano wax
polish & nano polish remove scratch nano lack
Teflon plastic trims restoration plastic trims protection
Chrome & nickel restoration
Ccleaning seat , leather protection, door panel, head liner & carpets car valeting
Full valeting : (cleaning the seats and protection, door panel, carpets, compound&wax , headlight , till lights , rims cleaning, seatbelt)
Quick valeting : (seats cleaning , door panels , nano polish ) head light restoration ( one year guarantee )
Window tinting
Touch up paint faded clear coat repair
Paint restoration and respraying
Rims respraying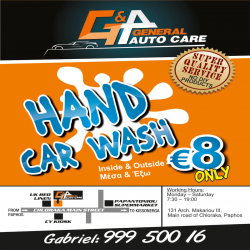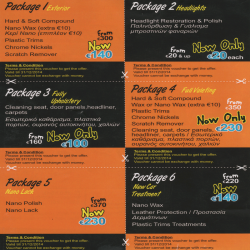 Download PDF's Below

Vacumn
Clear coat restore
While you wait wash
Clear coat restore
While you wait wash
Interior |Cleaning
Headlights clean & restor
Windows tinting
nan wax
Car wash
nan wax
Valeting
Windows tinting
Car wash
Interior |Cleaning
Polish
Car wash
Vacumn
Car wash
Clear coat restore
Valeting
Car wash
Interior |Cleaning
Headlights clean & restor
Valeting
Polish
Headlights clean & restor
While you wait wash
Interior |Cleaning
Car wash
Polish
Headlights clean & restor
Windows tinting
While you wait wash
Interior |Cleaning
Address
131 Makariou III Ave, Emba, Cyprus
Reviews
There are no reviews at this moment..
Write a review