Mediterranean One Glass Bottom Boat
Address: Latchi Harbor, Polis ChrysochousPolis
Website: Visit Website
Phone:
Email: info@mediterraneanone.com
Mob: 99 409997, 99094357 Fax:
Finding Cyprus discount card scheme accepted here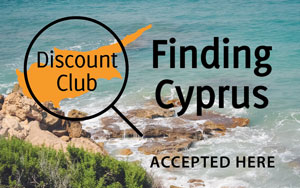 Details of Discounts

Maximum Discount Amount €5
Details of discounts - Normal Price 20, Discount 5 euros


Download PDF's Below

akamas
akamas
beach
Glass Bottom Boat
cruises
Cruise Excursions
boat trips
Cruise Excursions
Mediterranean One
cruises
boat trips
beach
blue lagoon
boat trips
boat trips
Mediterranean One
boat trips
beach
Glass Bottom Boat
Mediterranean One
blue lagoon
Glass Bottom Boat
akamas
beach
boat trips
blue lagoon
Glass Bottom Boat
cruises
akamas
beach
Reviews
Greatest
The greatest boat trip at Akamas ever had. You must try it ou!!
---
Write a review